A washing machine not working correctly can be frustrating, leaving you with the choice of washing your clothes yourself or sending them to a local laundromat if you are looking for Washing Machine Repair Dubai. Hence, JBR Repair provides (Home Appliance Repair) services in Dubai Marina, JLT, and all over Dubai. Our same-day emergency washing machine repair service will have your washer running in minutes and hassle-free.
Our washing machine repair experts are skilled and well-trained technicians with authorized service centers. Our expert in washing machine repair focuses on providing superior services at reasonable prices and exceeding the client's expectations.
JBR Repairs Best Services
Washing Machine Repair Dubai
Fridge Repair Dubai
Dishwasher Repair Dubai
Home Appliances Repair Dubai
AC Repair Dubai
Stove Repair Dubai
Oven Repair Dubai
Microwave Repair Dubai
Dryer Repair Dubai
JBR Repairs All Types Of Washing Machine
We repair a wide range of washers:
Fully Automatic Washing Machines
Semi-Automatic Washing Machines
Top Loading Washing Machines
Front Loading Washing Machines
Compact Washing Machines
Combination Units
Washing Machine Repair Dubai
JBR Repair can handle routine maintenance and emergency repairs for your washing machine. Usually, repairs are completed on the same day. Additionally, our preventative maintenance is designed to prevent problems from occurring.
We Deal To Repairs All Types Of Brands of Washing machine
JBR Repairs all types of washing machine brands mentioned here' Indesit Washing Machine Repair, Daewoo Washing Machine Repair, Bompani Washing Machine Repair, Siemens Washing Machine Repair, Whirlpool Washing Machine Repair Dubai, Bosch Washing Machine Repair, Ariston Washing Machine Repair, Hoover Washing Machine Repair, Samsung Washing Machine Repair, LG Washing Machine Repair, Teka Washing Machine Repair, etc
Washing Machine Problems, We Fix
The Washing Machine Fixer can repair all kinds of problems with washing machines. Here are a few of the most popular problems in washing machine repair in Dubai that we have encountered.
Washing Machine Not Able To Start 
Devices may fail to start for a variety of reasons, such as faulty electrical connections, to more complex ones such as faulty controllers. Check that the water supply valves are open and nothing is blocking your valve screens. A water supply system that needs fixing can also render your washer unusable. Our highly trained washing machine repair Dubai team will do whatever it takes to get your washing machine back up and running as quickly as possible.
The Washer is Vibrating
If you set your washing machine on a hard surface, it will vibrate while working. An unbalanced load can also cause the tool to rotate evenly on all surfaces. Be sure to level and secure the feet of the washer to the floor for the best results.
The washing machine is Leaking
However, if your washer leaks, you don't need to call repair experts for your washer right away. This may be for the following reasons:
The washer is unique.
The water supply pipes need to be correctly connected.
The drains of the washer are blocked.
If the cause of the leak is not able to be identified promptly, you should seek out a repair service.
Washing Machine Making Strange Noises
Strange noises, such as clicking, gurgling, or humming, may result from the presence of foreign objects in the washer. Internal sensors and drains that are blocked can also cause noise. So JBR Repairs is able to washing machine repair Dubai.
The washing Machine Won't Spin or Drain
Unintended loading can cause your machine to spin slowly or become unable to rotate, and using too much detergent can block drains. Let our repair experts help you identify and fix your washing machine to avoid any costly problems in the future.
The washing Machine Stops Mid-cycle
If your washer starts to spin but stops in the middle of a cycle, it could be because of the following;
The lid switch assembly is defective.
A faulty control panel
Defective clock
Improper loading
If these aren't the issue, contact our washer's repairman to thoroughly inspect.
We are a Washing Machine Repair Expert
If your washer doesn't wash your clothes properly or won't turn on, there are several signs of malfunction. With our repair team of experts, we can fix your washing machine problem in no time. A diagnostic method is a method of determining the affected functions. We also advise on whether components are damaged or loose and should be replaced.
Don't let dirty laundry pile up because of an unreliable washing machine! If your device needs repair or service, contact JBR Repairs right away to schedule an appointment with one of our skilled experts. We are committed to providing prompt and efficient appliance maintenance to ensure that any issues with your washer are resolved promptly. Do not hesitate to contact us with any questions or concerns.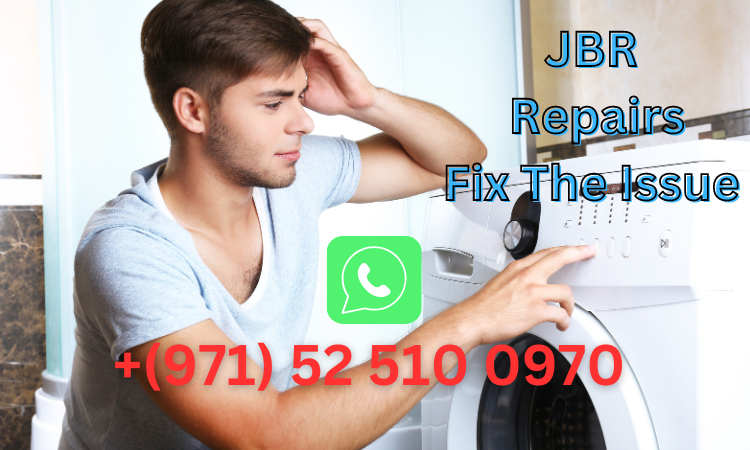 Why do Customers Choose JBR Repairs?
EXPERT TECHNICIANS
Our team comprises highly trained and certified technicians with years of experience solving even the most challenging HVAC or appliance problems.
EXCELLENT SERVICE
We completed the task smiling for the first time. We have a solid reputation for offering our clients high-quality solutions in HVAC and appliance services.
FULLY INSURED
Our team is insured, licensed, and skilled to complete repairs: affordable, upfront cost and flawless customer experience.
Our High Demanded Areas 
We serve Dubai Marina, Palm Jumeirah, Downtown Dubai, Business Bay, Jumeirah Village, JLT, JLT Cluster, JBL, Burj Al Arab, Internet City, International City, Jumeirah Lakes, Jumeirah Hill, Knowledge Park, Satwa Dubai. washing machine repair Dubai. Jumeriah Island, Jumeriah Heights, Jumeriah Ranches, Jumeriah Madinat, Golf Residence, Palm Island, Refrigerator & Fridge Refrigerator 2P Al Barsha, Barsha Heights, Al Sufouh, Al Manara, Umm Al Sheif, Umm Al Suqaim, Al Safa as well as all other areas of Dubai. If you need quick washing machine repair in Dubai, you can contact us via phone or WhatsApp at +(971) 52 510 0970.
Reasonable Rates Same Day Washing Machine Repair 052 510 0970
The washing machine has become a vital appliance in many households. The convenience of a washer machine is frequently overlooked once you encounter a pile of dirty clothes. If your washer has issues, you must make an appointment for repairs or maintenance immediately. Additionally, call the JBR Repairs Center, which can provide a same-day washing machine repair service.
Our Top Searches
Washing Machine Repair in Dubai
Cleaning Machine Repair Service Dubai
Same Day Washing Machine Repair
Washing Machine Repair Near Me
Washing Machine Technicians Dubai
Washing Machine Repair Near Dubai
Washing Machine Repair Service
Emergency Washing Machine Repair Dubai
JBR Repairs Final Verdict 
In today's world of a heavy storm of technology, things are getting better day by day. But during the improvement, the repairing department needs to improve the skills related to the new technology. JBR Repairs prides itself on keeping up with the latest home appliance technology. In such fields of repair, washing machine repair Dubai is the most common problem. However, this is a solution and technique only some people have. JBR provides customers with reliable and remarkable jobs in Dubai. For better service in Dubai, you should serve us. Submit the service you need. We'll be in touch with you shortly, or call us on 052 510 0970.