Washing Machine Repair Dubai
Washing Machine Repair
Washing machine repair Dubai services typically include a range of repair and maintenance tasks to ensure the proper functioning of the machine. Here are some common services included:
Repairing mechanical issues

Fixing electrical problems

Addressing water-related issues

Diagnosing and repairing error codes

Cleaning and maintenance

Replacement of parts

Testing and calibration
It's important to note that the specific services offered may vary depending on the service provider and the nature of the washer and Dryer Repair Dubai. It's advisable to communicate your specific needs and inquire about the services included before hiring a repair service.
JBR Repairs offer the best washing machine repair service in Dubai. Our services are the best in town as our expert staff will take on the challenge and fulfill it to make your washing machine absolutely perfect.
If you are looking for Washer service in Dubai then JBR Repairs offers you same day Home appliance repair Dubai. We will restore your washing machine in minutes and your problem will be solved.
Washing machine common issue
The washing machine is an important household item if it is not working smoothly then you will be in trouble because you are suffering from it. If your washing machine makes a noise at start up or the drum is not spinning properly or makes a horrible noise during start-up. So no worries dial or get the number 052 510 0970 and book your washing machine repair service now. Because we provide the best and most reliable service to our customers in Dubai.
Finding washing machine repair service in Dubai is now easy just visit our home page check us out and contact us to have our expertise delivered to your doorstep.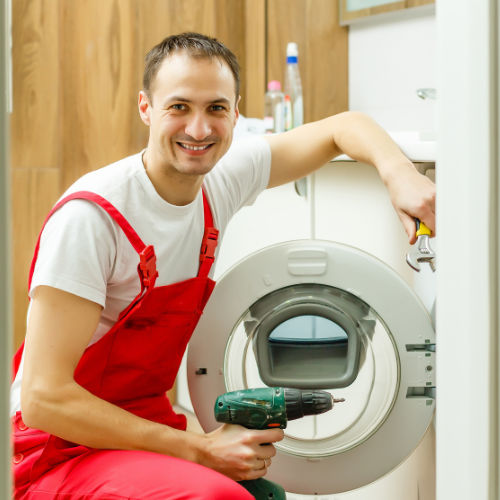 Book Now Washing Machine Repair Dubai Service
You can book now our service by clicking the call to action button, and you will arrive at us. Because our service about washing machine repair in Dubai is most popular and flexible for users. We serve our services throughout Dubai 24/7, which makes you happy because you can book our services at any moment, 24/7. Our staff is expert in dealing with all types of washing machine brands. Our staff is available 24/7 at any moment. Make a call for JBR Repairs service.
Washing Machine Repairing Service in Dubai 052-510-0970
Washing Machine Repair in Dubai is more reliable and easy to find because, in the heart of Dubai, JBR Repairs offers the best service. We offer the best customer satisfaction service; our priority is to provide our users with positive feedback. As we know, the customer is suffering because his appliance is not working correctly. So that's the reason JBR Repairs is the best in the town for home appliance repair services. However, if you are looking for washing machine repair near me, then you must get in touch with us at 052-510-0970 and book your service now. We are serving almost entire cities of Dubai. We offer same-day washing machine repair service in Dubai.
Same-Day Washing Machine Repair in Dubai
In Dubai, a wide range of service providers but JBR Repairs is a unique and reliable service provider in Dubai. Our service is same-day washing machine repair service Dubai is nowadays the most popular because we serve the customer on-time delivery with reasonable charges. So if you are searching for the best washer repair in Dubai get in touch with us for more information and services.
JBR Repairs is a well-known organization that provides washing machine repair services in Dubai. We serve in the cities mentioned bellow:
JBR
Dubai Marina
JLT
Palam Jumeriah
Sports City
Motor City
Arabian ranches 1
Arabian ranches2
Mira1
Mira2
Reem ram
Mudon
Al Barari
Falcon city
The villa
Al Maktoum city
Dubai hills
Jumeirah Park
Jumeriah Iceland
Springs
Springs meadows
The greens
Middia city
Al Barsha 1
Al Barsha 2
Al Barsha 3
Al Barsha 4
Emirates Hills
The lakes
Hattan
Downtown
The gardens
Al sufouh
Al furjan
Jvc
Jvt
Business bay
Al Safa 1
Al Safa 2
Ummy Saqeem 1
Ummy Saqeem 2
Ummy Saqeem 3
Jumeirah 2
Jumeirah 3
Mirdif
Uptown Mirdif
Silicone oasis
Al monkhood
Al krama
Al jafliya
Al satwa
Difc
Sheik zaid Road
Oud matha
Dubai Creek Park
Academic City
Warsan 2
Dubai festival city
Wafi City
Zabel
Al Seef
Dubai maritime city
Al Mina
Washing Machine Repair Near Me
As usual human nature is to find comfort everywhere that's why people are looking for washing machine repair near me because the nearest service provider arrives on time and solves the problem perfectly in time.
JBR Repair is the best option for users because our staff is an expert in their field and upgraded by the new technology appliances. Our staff is well expert in dealing with top brand washers and Dryer Repair Dubai. We are dealing with theses brand these brands LG Washing machine repair, Samsung Washing machine repair, Panasonic washing machine repair, Whirlpool Washer repair, Candy washing machine repair, Bosch Washing machine repair, Hoover Washer and Dryer Repair Dubai.
Almost all related brands repair it very well you must make us a call for the best services in Dubai.
Washer And Dryer Repair Dubai 052 510 0970
Washer and dryer repair in Dubai is now the most significant pain for every woman as it is the primary household item that keeps you clean and sparkling like a diamond. If your washer is not working perfectly, be sure to call JBR Repair at once. JBR Repairs felt the pain of the customer as the equipment was getting old day by day and needed a professional repairman to make it perfect again.
Professionally, service providers make the appliance new life, so one time must try us for reliable services in Dubai. Our service includes washing machine repair Dubai, Fridge Repair Dubai, AC repair Dubai, Dishwasher Repair Dubai, Oven Repair in Dubai, and much more related to kitchen and home appliances.
Why Choose JBR Repair
We are experts in Repairing all types of Washing machine Brands 

Quick and Reliable Service

Best in Dubai For Home Appliance Repairing service or Laundry Washer Repairing service in Dubai

24/7 Quick Service

Instant Responsive Conversation 

Refrigerator Repair Dubai

Dryer Repair Dubai

Dishwasher Repair Dubai

AC Repair Dubai
Washing Machine Repair Service
Professional washing machine repair service provider in Dubai. We'll fix this issue in a few moments so if you're really looking for:
Washing Machine Repair in Dubai
Washing Machine Repair Dubai
Washer and Dryer Repair Dubai
Washing Machine Repair and Service
Washing Machine Repair near me
Washing Machine Electrician in Dubai
Washing Machine Technician in Dubai
24/7 Affordable Washing Machine Repair in Dubai
Chose For A Reason
Expert Level Technicians
24/7 Service in Dubai
Reliable Service
Quick & Suitable
Same-Day Delivery
Reasonable Prices
Washing Machine Repair Technician
If your washing machine is making some noise or not working at all then you need a washing machine repair technician so you are at the right place dear contact us on 052 510 0970 Our team will arrive as soon as possible and solve your problem. Within minutes we are known as one of the fastest and most reliable washing machine repair service providers in Dubai.